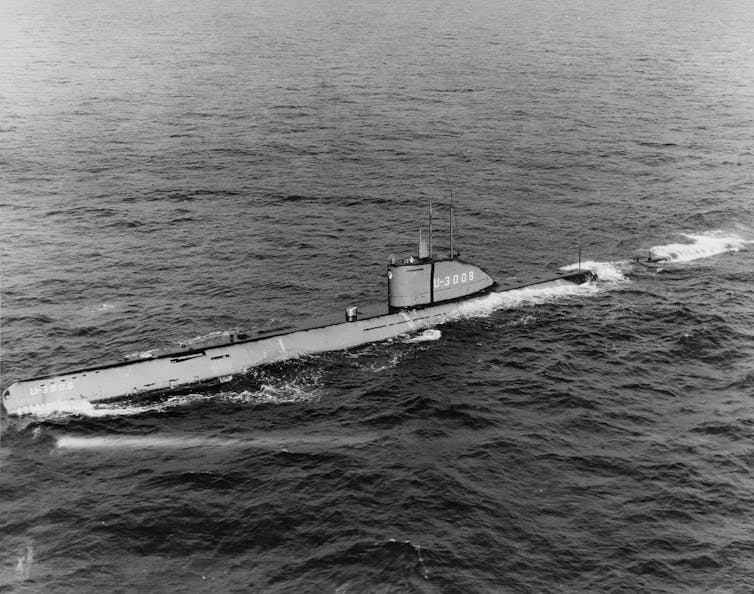 Earlier this month, searchers from the Sea War Museum Jutland in Denmark located a little-known but very important shipwreck from World War II in Skagerrak, the strait between Denmark and Norway. As George Dvorsky at Gizmodo reports, U-3523 was a type XXI U-boat, the Third Reich's most advanced long-range submarine. Some researchers have speculated that the wreck could have been used to transport valuables and even high-ranking Nazis to South America in the waning days of the war.
 According to a press release, the submarine was located by the research ship Viña, which was scanning the seabed near the town of Skagen when the unmistakable profile of the submarine appeared on its sonar. The ship sits under 404 feet of water with its nose buried in the seabed and its tail facing upward at about a 45 degree angle.
U-3523 was designed to run quietly to avoid detection and, most importantly, it may have been capable of crossing the ocean from Europe to South America underwater. However, it was not bomb-proof. On May 6, 1945, just two days after Nazi troops in Denmark and the Netherlands surrendered, the fleeing sub was located by a British Liberator bomber, which dropped depth charges, sinking the submarine and killing 58 crew and any additional passengers who may have been onboard.
"This was the most modern submarine the Germans built during the [Second World War]," director of the Sea War Museum Jutland, Gert Normann Andersen told a Danish outlet, as Brandon Specktor at LiveScience translated. "Only two of the 118 that were ordered actually entered service."
CLICK HERE to continue reading