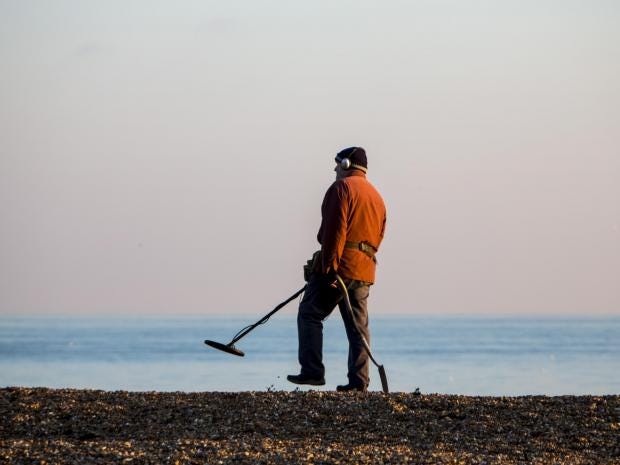 The first question I ask Steve Critchley is whether he watches The Detectorists, and what he thinks about it.
The third season of this gentle comedy, written by and starring Mackenzie Crook with Toby Jones as an odd couple united by their passion for metal detecting, has just started on BBC4, and has focused the spotlight on this very British activity. What could be more quintessentially of these isles, than the silhouette of a lone figure sweeping a metal detector back and forth in contemplative solitude in some remote English field?
"I do chuckle," admits Critchley. He's been metal detecting for 40 years, and served for 16 of those as the chairman of the National Council for Metal Detecting. Now he acts as policy adviser to the body. He's pretty impressed with the way the sitcom portrays metal detecting, and the nuances of the hobby it touches upon. He adds: "I've a lot of experience of metal detecting clubs, and a lot of what they show is very true to life. It does raise a smile."
Originally from Yorkshire, Critchley now ploughs his metal-detecting furrows in Cambridgeshire, where he's lived since 1985 – "I came down to work for two years, and never left" – and at least a couple of weekends a month he'll be out with his kit, seeing what he can see.
CLICK HERE to continue reading