A Danish farm field has yielded a priceless harvest: a buried treasure of Viking gold necklaces, arm rings and other precious objects that could help shed light on the relationships among the Viking elite.…
Metal-detector enthusiasts and archaeologists have uncovered roughly three pounds of gold from the field, almost all of it discovered in the last 18 months. The cache, known as the Fæsted hoard, is the second-largest known haul of Viking gold and the biggest in Denmark.
The find shows that the king who originally owned the hoard was "filthy rich," says curator Lars Grundvad of Denmark's Sønderskov Museum, who is studying the hoard. "It raises the question, where did they get all this gold?"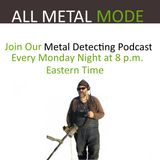 Despite the image of the Vikings as thuggish brutes, many of the golden objects are exquisitely worked. There are bracelets made of gold strands twisted together, gold-and-crystal pendants and a unique brooch from which delicate gold chains dangle. There are also silver bracelets, gold beads and fragments of golden jewelry hacked into bits to serve as currency.
No inscriptions accompany the hoard to reveal its history. But Viking-Age histories provide a clue: Kings evidently showered sumptuous gifts on local chiefs to build alliances.
CLICK HERE to continue reading