A Russian man with a burning passion for animals has a wolf pack living on his estate as pets. It's not all fun and games with his toothy and clawy friends however, as he hopes to establish a center for wild animal rehabilitation.
The wolves have been living with the businessman from the Urals city of Ekaterinburg for three years already. A couple of them, a female grey wolf Alpha and male black wolf Ugolek (Russian for a 'piece of coal'), were adopted by Kirill Potapov as puppies.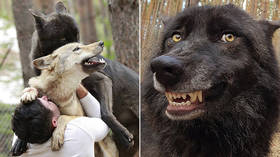 The wolf couple appear to be very tame, and Potapov's Instagram is full of videos of them playing together, munching on carrots and hunting for their owner's sneakers.
CLICK HERE for images and video.