What A Day ! : Essex Detectorist Finds A Gold Coin, A Silver Bracelet And A Ring On The Same Hunt !!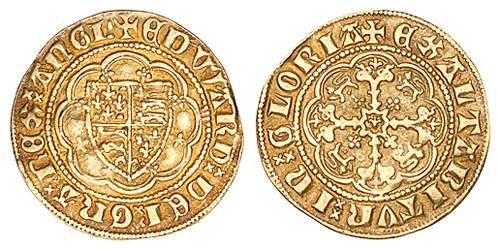 A surprise was in store on Saturday 30th December for Essex based Detectorist Joe Read. 
Heading out in terrible weather for one final hunt of the year and with only one field on his permission available due to the flooding of the land, Joe had contemplated whether to bother at all…..  But , boy is He glad He did…….
"The field we had was on top of the hill between the old house and an old monastery. I was out with my mate Matt Nurse and My dog Nelson, The first target of the day was an old pickle fork, The ground was sodden and I must have gained a few inches in height due to the amount of mud stuck to the soles of my boots, the rain was coming through My jacket and I was thinking about packing in but then I had a signal on my 400i reading in at 58 , I Dug the plug pushed the pointer about a bit then I saw it. I knew it was a gold coin of some sort just lying there in front of Me ! Before I touched it I shouted over to Matt and he came running over. By this point I couldn't stop shaking. I eventually picked it up and realised I had Edward 111 quarter noble. I could not believe it and it took me about 10
mins to get my self together."
"Then I jokingly I said to matt next hole will be silver. I walked up and over the hill and my next target was indeed Silver – A bracelet. I could not believe My luck." 
"We had been out a fair hours now and the weather had got worse so we decided to head back to the car , I was swinging My way lazily back when the ACE pinged yet again !! I looked up at Matt and dug the hole …. BOOM it was a guilted ring !! I still cannot believe My luck and can't wait to get back on those fields !!"
What a hunt !! A gold coin, A silver bracelet and a Ring in one day ! well done Joe !
The noble was the first English gold coin produced in quantity, having been preceded by the gold penny and the florin earlier in the reigns of King Henry III and King Edward III, which saw little circulation. The derivatives of the noble, the half noble and quarter noble, on the other hand, were produced in quantity and were very popular.
The value of the coin was six shillings and eight pence, which was equivalent to eighty pence or one-third of a pound sterling. The weight was changed from issue to issue to maintain this value until 1464 when the value was increased. Throughout the history of this denomination there are many varieties of inscriptions, mintmarks, and to some extent, design.
CLICK HERE for more information about the Noble.